Embedded Systems Design (EGR 314)
A cornerstone of this course is the mid-semester design reviews that allow students to present their designs — such as wearable robots in the Spring 2022 semester — to various mentors who are industry members from Intel, Microchip, Texas Instruments, Fender and other major companies with operations in Arizona.
Team 101: Bionic Aid
Students: Joseph Kong, Brandon Price, Joshua Stanich, Christian Torres, Skylynn Young
This team created a prototype of an exoskeletal hand that allows the user to have a robotically sealed grip that is controlled by wires embedded in the hand. These wires are reeled in when the pressure sensor is pressurized for 10 seconds, allowing the user to grip the object with control until the release of the hand after pressurizing the sensor for 5 seconds. This prototype has a web shooter included that will shoot web strings when changing the orientation of a gyro, the projectile web shooter is a prototype for a future project of reeling in a distanced object into the robotic grip.
Team 102: Visual Helmet
Students: Ali Aldaaysi, Gil Ruiz, Matthew Tucker, Daymon Wilkins

The purpose of this project is to create a helmet that provides a combination of assistive technologies for those who are visually impaired. The device they designed allows users to have awareness of an object approaching them and the distance and speed at which it is approaching.
Team 103: The Predator
Students: Michael Femiani, Haylee Mastoris, Juan Ramirez, Kaijie Wang

The Predator is a modular shoulder mount that will measure distances and GPS coordinates and display them on an LCD screen. The purpose of the project is to give industry workers, such as surveyors, a wearable and user friendly device to measure distances and store the data for future reference.
Team 104: K-9 Tac-Tech Vest
Students: Anthony Baldacci, Adriana Juarez-Lara, Tanner Souza, Dominick Vallelonga
This project aims to enhance police K-9 unit vests with technology that will elevate the unit's ability to execute on the line of duty. The K-9 TacTech Vest is equipped with temperature sensing, GPS tracking, LED lighting and WiFi-controlled sound commands. The WiFi commands will come from a phone app controlled by the K-9 officer, allowing them to communicate sound commands at different pitches to the K-9.
Team 105: Smartpack
Students: Isaiah Begay, Vanderson Cunjuca, Milan Patel, Logan Spearin

The function of the Smartpack is to enable a means of communication for a user with aphasia/dysphasia in today's Covid era. The Smartpack is mounted to the users back in an active state and a complement of infrared proximity sensors will trigger to the user, via a vibration motor, whether a person is within a six-foot radius of the user's backside. In addition to the trigger, the user can display, via conductive pads mounted to the strap of the Smartpack, a variety of predefined messages on an LCD (i.e., respect social distancing protocol) to the person within the user's space.
Team 106: The AutoHood
Students: Aaron Clatone, Sage Furman, Tyler Hulson, Michael Reynolds
The project is aimed towards individuals who seek a low-cost mechatronic solution to unpredictable rainy weather conditions. The AutoHood is designed to solve this problem by providing shelter in the form of a hood in the event of rainfall and cold weather. The device will include various sensors to predict rainfall allowing the device to warn the user in the form of a phone notification and deploy the device.
Team 107: Smart Gloves
Students: Noah Asherbranner, Austin Corona, Xianyao Liu, Niglan Quevedo
This team designed wearable technology in the form of gloves to help individuals who are more susceptible to Covid-19 or other illnesses, to help maintain health precautions. It can help those who may not be able to communicate verbally, or those who would like to visually send a message to others. This will be achieved by using an LCD screen to display messages based on the ultrasonic or pressure sensors and user input.
Team 108: Helmet Buddy
Students: Kenneth Cunningham, Nicholas Knowles, Alec Tran, Benjamin Yee
The Helmet Buddy is a smart add-on device meant for existing bicycle helmets to improve rider safety. It will enhance the safety of cyclists by increasing their awareness to surrounding motorists to decrease the frequency of accidents. This add-on device will include the following features: A smart LED headlight that automatically adjusts its brightness according to the brightness of the surrounding environment to improve visibility, an automatic brake light that turns on and flashes when the cyclist decelerates, turn signals to help others predict the cyclist's path and a fall detection precept that will send an alert message if the cyclist has fallen and is not responsive.
Team 109: Fur-ever Safe
Students: Alexys Antell, Hannah Brown, Elizabeth Evans, Zachary Goode, Yujia Wang
The premise of this project is to design and create a plant system that will be able to provide red, green or blue light to a plant, detect the water level, display the plant's information for the user via a LCD screen and protect the plant from animals and pets using a spray bottle. This will put the plant parents' mind at ease when it comes to the health and safety of their plant.
Team 110: Adaptable Smart Helmet
Students: Ryan Clark, Kenneth Hodson, Alexander Potts
The Adaptable Smart Helmet is a head-mounted data logger that can fit underneath a variety of different helmets. It is intended for use primarily by bikers or skydivers. The device collects information about the movement of the user and displays it on a heads-up display. It can use the information gathered from its three-axis accelerometer to show the user's acceleration and average speed, and can send out a distress call to contacts if high acceleration is detected (such as a fall or impact). Data collected from the device is also sent over WiFi to a phone or computer, to be stored for later use.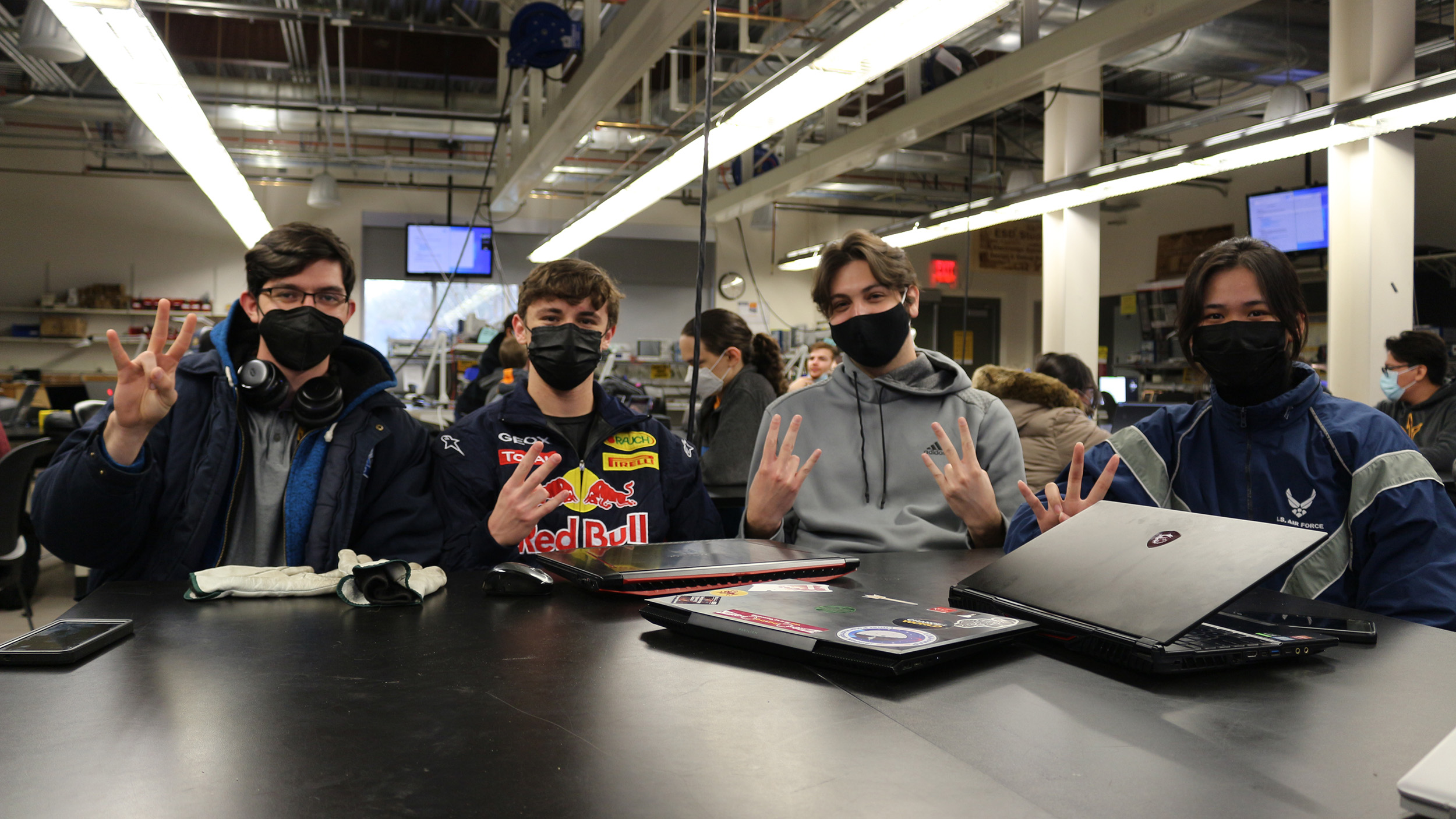 Team 201: Project Bee
Students: Daniel Espinoza Pena, Nicholas Johnson, Logan Suffredini, Xiaoyan Lin
This project aims to create a wearable technology for those involved in combat sports. It includes a sensor that attaches to the user's glove and give them data based on a workout or fight. Data gathered can include a punch count, punch force and punch speed. The data can be sent to the user's phone using WiFi so that the user can track their data to show possible areas of improvement.
Team: 202: Plant Sweater
Students: Matthew DSouza, Anita Lu, Ian Mansfield, Madelyn Molnar
This team created a wearable technology for a person, animal, or plant. The plant sweater is a robotic cover for plants that can deploy when night falls and it gets cold. This will help plant enthusiasts protect their plants from the cold so that they can enjoy them for longer periods of time without manually having to put plant covers on their plants. This automated protection will be achieved through the use of both a temperature and daylight sensor that monitor conditions around the plant, and a motor that deploys the cover when the sensors indicate that outside conditions are no longer favorable for the plant.
Team 203: Standing Straight Machine
Students: Jiaji Chen, Christopher Friend, Brian Kenney, Braden Williams
The purpose of this product is to assist those with poor posture in the seated position by providing gentle reminders to correct their position. The product will have a built in pressure sensor that will detect when the user is not properly positioned in their chair. This will work in coordination with a temperature sensor that will be monitoring temperature between them and the back of their chair. When the device senses an incorrect posture it will activate the built-in motor. The motor will move in the forward position when the user needs to sit up straight, and move in reverse after they have sustained improved posture.
Team 204: Gyroscopic 3D Arm
Students: Erik Alegria, Nicholas Dunn, Dalton Tebbs, Aahan Venkatesh
The purpose of this project is to create a robotic third arm to help the human body not only carry, but stabilize an object so that the wearer has free hands. The project will have a total of three motors that will move with given data from a gyroscopic sensor. The motors will rotate on the X, Y and Z axis giving the device a full range of motion.
Team 205: Watching Distance
Students: Noah Blevins, Jose Diaz, Sai Srinivas Tatwik Meesala, Samir Strasser
Team 206: Trackpack
Students: Paulina Garibay Jaquez, Justin Little-Sagg, Jacqueline Villanueva Castro, James Zaverdas
The purpose of this project is to create a trackable backpack that has a temperature sensor to measure the ambient temperature as well as eight LED lights on top of the device to be used for communication for the wearer. The backpack can be used by children for their walks to school, or those attending an amusement park. Hikers, campers and even mountain bikers can use the Trackpack as a way for friends or family to locate them while on their trip. The LED's are for communicating with the wearer. If the child has wondered from their parents, their parents can signal the LED's notifying the child to return to the parents.
Team 207: Mountaineer's Lifeline
Students: Seth Altobelli, Max Gao, Reagan Gillespie, Danis Nugroho
Mountaineer's lifeline is a wearable vital monitoring device that can track the physiological status of a high-altitude athlete to optimize their performance while keeping them safe from dangerous situations such as altitude sickness aor extended durations of high heart rates. Mountaineer's lifeline uses photoplethysmography to measure the users heart rate along with an altimeter to track the users altitude. The data from these sensors is used to alert the user when they are in danger. This simplistic set of sensors results in the maximum battery life at a minimum cost while retaining the desired core functionality of the device.
Team 208: Haptic Partner Bracelets
Students: Connor Holley, Garrett Kolowitz, Preston Miller, Zhanyi Wang
The Haptic Partner Bracelet project poses a solution to the lack of physical touch often experienced by people in long distance relationships. The pair of bracelets will be able to sense an analog force input from the user, transmit that input via the user's cellphone and simulate the force on the partner's corresponding bracelet using a vibration response. The vibration force felt by the receiving user will be proportional to the force exerted by the sending user. Although the target market is for individuals in long distance relationships, the product would likely be well-received by any couple, as feeling your partner's presence when they are away may be a comforting sensation.
Team 209: At Home Plant Irrigation System
Students: William Davidian, Justin Hancock, Zane Reynolds, Caden Wyatt
With life as busy as it is, one task that often is forgotten is that of watering in-home plants. This project will design and build a mini irrigation system that will water the plant based on a timer. The user interface will include notifications sent to the users phone to let them know to add water to the fill system, as well as temperature messages alerting the user to extreme temperatures. The user interface will also include different settings that can be established via the phone to change the watering times and amounts. The product will remotely keep plant life alive and well.
Team 210: Robotic Mask
Students: Jeiny Ayala, Nicholas CollinsYarnall, Litzi Matancillas, Bryce Taylor
The pandemic that the world faces today has posed many problems for many people. The most obvious of these problems is the health and safety of ourselves and those around us. This device is a wearable face shield that will display the user's body temperature. Using a button on the user's smartphone device they will be able to turn on an LED display showing their body temperature and allowing others to view it without coming within six feet of that person.